Dp Fanatics Sorana Bachelor party
Enjoy free preview with Sorana from DP Fanatics starring in the "Bachelor party" scene! A good bachelor party needs three things: lots of beer, good music and some sexy dancer girls. This time everything is given... and indeed, it seems to be a superb party, where the dancer chick gets fucked by all guys around, including the DJ too. And she enjoys nothing better than her airtight position: mouth, pussy and ass filled with a huge cock at the same time!
Sorana Sample Pictures
More Free DP Fanatics Scenes
I was out in my garden and was enjoying the sunshine and myself... I really loved it, as the low wind and sun rays were touching my skin I felt a great need to start masturbating. I wish I had someone…
Sharka is a true sexbomb. She might not be the typical slender and tall supermodel type, but she has a charming personality and a wonderful attitude to sex! Check it out yourselves!…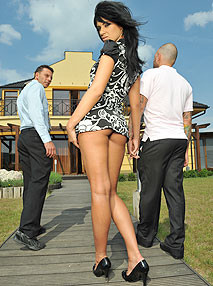 Sorana and her husband, Greg want to buy a new house so organized a meeting with the agent, Nick. Nick was very enthusiastic about the house but it was rather Sorana's tits that made his imagination f…
If your worship is the beauty of round firm female butt, then this is your place. We find brand new hotties twice a week, fuck the shit out of their tight ass and pussy and shoot a thick creamy load all over her face, her butt or even inside. All of our movies and photos are 100% exclusive, found nowhere else but here. The photos and videos are ultra sharp hi-res series in the quality you won't find anywhere else.