Dp Fanatics Ciara Bugatti Pornstar wannabe
Enjoy free preview with Ciara Bugatti from DP Fanatics starring in the "Pornstar wannabe" scene! Ciara Bugatti is a 19-year-old brunette with drop-dead gorgeous body. Her aims: she wants to be a famous pornstar and she does everything to achieve her plan - so better watch out for her name in the future!
Ciara Bugatti Sample Pictures
More Free DP Fanatics Scenes
Ciara Bugatti now turned to blonde. The previously black-haired girl hasn't changed much, as for sexual appetite. She's still that hungry chick who likes it double!…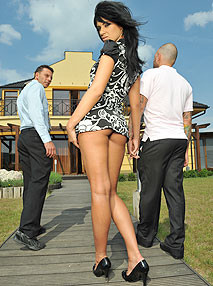 Sorana and her husband, Greg want to buy a new house so organized a meeting with the agent, Nick. Nick was very enthusiastic about the house but it was rather Sorana's tits that made his imagination f…
Cindy is a horny bartender and guess where she got her name from? Yes, you're right. She's cock hungry and would do anything for a few bucks of tip...…
If your worship is the beauty of round firm female butt, then this is your place. We find brand new hotties twice a week, fuck the shit out of their tight ass and pussy and shoot a thick creamy load all over her face, her butt or even inside. All of our movies and photos are 100% exclusive, found nowhere else but here. The photos and videos are ultra sharp hi-res series in the quality you won't find anywhere else.