Dp Fanatics Carla Cox Car wash babe
Enjoy free preview with Carla Cox from DP Fanatics starring in the "Car wash babe" scene! On a hot summer day you go and have your car washed, and to your greatest surprise it's not an ugly fat guy doing it in a blue suit but hot blond babe Carla Cox in underwear. You and your friends love watching her doing it, but after a while just watching is not enough, you want to feel her body; her tits, her pussy, her asshole, her tongue… In this gallery you can see as three friends treat one girl, namely Carla Cox, and they fuck all her holes they find empty!
Carla Cox Sample Pictures
More Free DP Fanatics Scenes
A candy-sweet schoolgirl undresses in front of you; would you turn away your eyes or would you step closer? If your answer is turning away, this site is definitely not for you! So come on and move a l…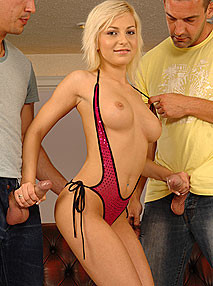 Check out this fresh Romanian cutie, she's eager to try herself out with two guys at the same time. If you wanna see how her virgin anal rosebud looks after a sizzling hardcore scene, don't miss out t…
Carla Cox, this blonde nymphomaniac chick is a dancer at my club. Right before closing hour she comes in for a drink. I stand at the bar, and there's only one guest left, but the horny girl wants to s…
If your worship is the beauty of round firm female butt, then this is your place. We find brand new hotties twice a week, fuck the shit out of their tight ass and pussy and shoot a thick creamy load all over her face, her butt or even inside. All of our movies and photos are 100% exclusive, found nowhere else but here. The photos and videos are ultra sharp hi-res series in the quality you won't find anywhere else.